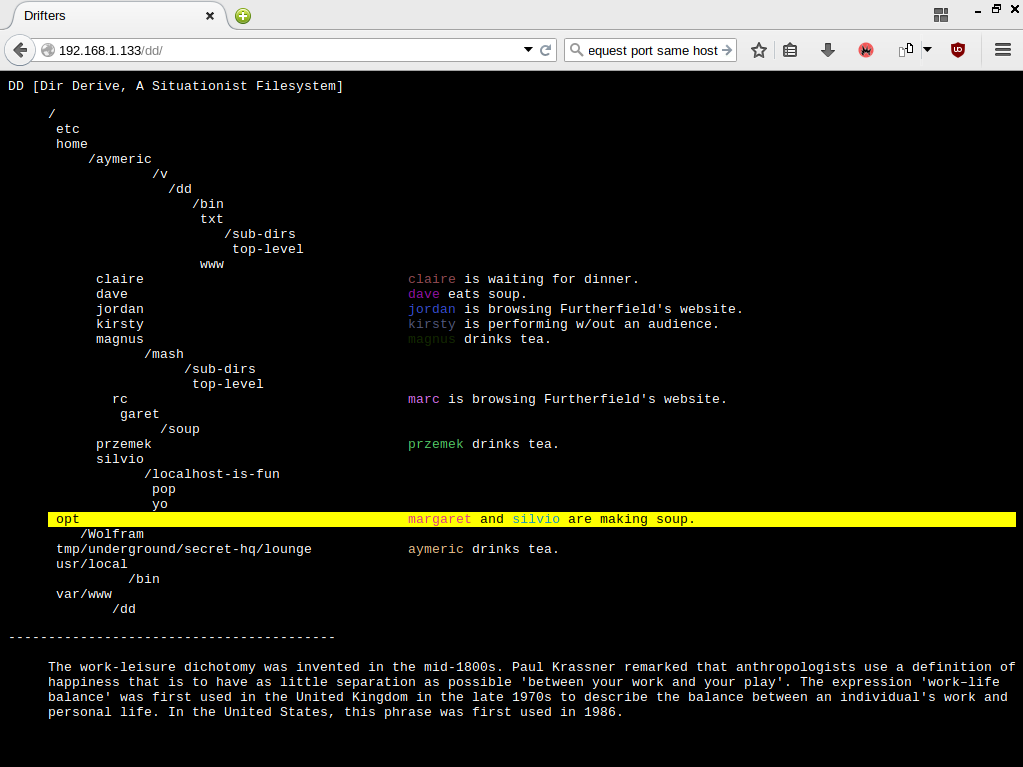 Between October 29-31, I took part in RWX (Read/Write/eXecute): a three-day worksession and public talks programme curated by Dave Young. The goal was to explore the politics of artistic tool use through the context of the 'filesystem' – the part of a computer's operating system that allows a user to read and write to digital memory. During these days I exchanged ideas with the other invited speakers — Marc Garret, Kirsty Hendry, Aymeric Mansoux — and a happy crowd of participants interested in the above topics.
I collaborated with Magnus Lawrie, Margaret Malcolm, and Aymeric Mansoux on the following question: what does a 'situationist' filesystem look like? At first, we asked ourselves how psychogeographic strategies such as the dérive could be applied to the hierarchical structure of directories and files and its efficiency-driven navigation. As it turns out, getting lost in the filesystem isn't so easy, since you can go back to a safe place with a quick shell command. Then we focused on the Situationist emphasis on collective ludic experiences. This led us to envision a game — provisionally titled Dir Derive — in which multiple users discover new areas of the filesystem by interacting with each other.
At the end of the last day, we had a barebone proof of concept of the game running on a Raspberry Pi. Connecting via ssh, users would participate in the game by following each other, sending messages as names of new directories, and by meeting in specific places — each time that this happens they would ear the sound of a trumpet. As Aymeric well explains in the video below, this concept can be enriched with several functionalities, such as: hidden treasures, traps, missions, etc. I'm pretty sure it would be fun to devote a workshop to extend the game.